TITLE: les Duduss au locle [DUDUSS IN LE LOCLE]
Technique: Spray et pinceaux
In June 2021, the street artist Toctoc painted three "Duduss" with their abnormally large jaws on the walls of Le Locle: Lewis Carroll's White Rabbit, Charlie Chaplin in "Modern Times" and an old man being carried off by time.

The Duduss are often minimalist caricatures of famous figures such as Batman, Jean-Michel Basquiat and the Beatles.

Over time, Toctoc's works have colonised the walls of several countries (including France, La Réunion, the United States, Italy, England, Kuwait, Germany and the Netherlands). Having cheered up thousands of passers-by and tens of thousands of internet users, his colourful characters, initially painted in the public space "vandal style", soon found themselves being hung in galleries and reproduced in books and comic strips.

With a humorous tinge of self-mockery, and demonstrating a tenderness for the human race, Toctoc sometimes tackles important issues like global warming or champions biodiversity without losing his mischievous sense of fun.

By creating a pastiche of heroes from popular global culture, the artist casts an amused eye at the "star system".
© exomusée – January 2022 – Redaction: François Balmer – Translation: Proverb, Heiler & Co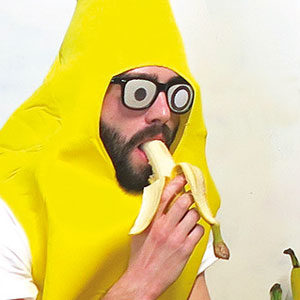 Toctoc is a French artist who is part of the urban art (or street art) movement. Based in the Paris region, he frequently paints on walls in Paris, but also in other cities such as Lyon, Montpellier, Bourges, Sète and Guidel, and even abroad, including in the United States, England, Italy, Kuwait and the Dominican Republic.

Childhood
Toctoc is originally from Meillant in Le Berry. He returns there regularly to paint on walls in local towns, such as Bourges, Saint-Amand-Montrond and even at his old primary school in Meillant.

Art studies
Toctoc was taught to paint at the age of six by his grandfather, Papouche, with whom he produced four-handed canvases. After leaving school, the artist moved to Paris to study art at ESAG Penninghen, Académie Charpentier, Université Paris 1 and Sup de Pub. Toctoc has two bachelor's degrees and a master's degree in the arts.

Street art
Toctoc created Duduss, his character with a very recognisable profile, in 2012. He has used him to produce caricatures of famous people such as Gainsbourg-Duduss, Batman-Duduss and Eminem-Duduss. Toctoc paints and sticks his Duduss on the walls of Paris and across France. The artist uses his Duduss to convey messages that are often a mix of humour and poetry. He also exhibits paintings in galleries in solo or group exhibitions.
© exomusée – January 2022 – Redaction: François Balmer – Translation: Proverb, Heiler & Co
To print the content of the page, please click on the printer icon.
Thank you for following and supporting the exomusée on Facebook, Instagram and YouTube!