Technique: STENCILS AND SPRAY PAINT
LOCATION: Joux-Pélichet 5
Le Locle's history is closely associated with lacemaking. In the 18th and 19th centuries, Le Locle lace was exported to the largest markets in France and Germany, making Le Locle the most important town in the Neuchâtel mountains, well before the advent of watchmaking, hence the local expression "watchmaking came out of lacemaking".

Paying homage to this local expertise that gave the region its reputation and whose custodians today number some forty enthusiasts (members of the Lacemaking Association of Le Locle), NeSpoon took her stencils and brushes to create a mural on the east wall of 5 Chemin de la Joux-Pélichet, which is owned by the dressmaker and costume designer Janick Nardin.
© exomusée – January 2022 – Redaction: François Balmer – Translation: Proverb, Heiler & Co
TITLES: Locle Lace #2 / Locle Lace #3
Technique: STENCILS AND SPRAY PAINT
LOCATIONS: Alexis-marie-Piaget 24 and 28
The lace motif painted by NeSpoon at 24 and 28 Rue Alexis-Marie-Piaget came from a piece in the collection of the Lacemaking Association of Le Locle that is exhibited in the Watch Museum of Le Locle (special thanks to Evelyne Progin for her support).
© exomusée – January 2022 – Redaction: François Balmer – Translation: Proverb, Heiler & Co
Alexis-marie-Piaget 24 and 28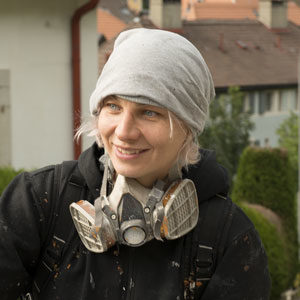 NeSpoon is one of the few women to enjoy an international reputation in what can at times be the "testosterone-fuelled" environment of Polish street art. Based in Warsaw, her art can be seen all over the world. For the artist, the use of traditional lace motifs as a source of inspiration is partly aesthetic, but also a political and feminist act, particularly when these motifs are painted in the street. NeSpoon sees in lace a universal symbol of female sensibility, which all too often is undermined by the patriarchy. By disseminating motifs of lace and complex doilies in the public space, NeSpoon gives a benevolent aura to neglected and austere urban zones, encouraging positive emotions thanks to her socially engaged art. Wherever she creates, NeSpoon champions political and social causes. The geographical siting of her art has an important meaning for her and for society. Whether it is about making people aware of increasing water shortages and the privatisation of natural resources in New Zealand or highlighting the beauty and harmony between cultures in the United Arab Emirates, NeSpoon's artistic approach is guided by genuine considerations about art's social and political implications.

Since 2009, NeSpoon has expanded her field of expression into pottery, painting, sculpture and jewellery.

The name the artist picked for herself comes from a scene in the futuristic film The Matrix, made in 1999 by Lana Wachowski­ and Lilly Wachowski, in which a child medium can be seen convincing "The One" (Keanu Reeves) that materiality is merely a creation of the mind. "The One" is holding a spoon and the child tells him: "There is no spoon". "NeSpoon" is a contraction of this line.
To print the content of the page, please click on the printer icon.
Thank you for following and supporting the exomusée on Facebook, Instagram and YouTube!