TITLE: Prends ton temps [TAKE YOUR TIME]
Technique: SPRAY PAINT, PAINTING
LOCATION: Collège des Jeanneret
Nasty's calligraphy is inherited from round gothic writing or rotunda. This written form was principally used in the Middle Ages in southern Europe. The marriage between medieval calligraphy and a pop-art aesthetic is a way of presenting graffiti as the product of a distant legacy, a stylistic recurrence, an anachronism. Using spray paint, the freehand drawing in this elegant and structured typography requires fluid and regular movements, which have helped Nasty make his name. The upstrokes of the letters, produced using rectangular spray nozzles, are similar to those created with bevelled quills.

Until the 1980s, desks at primary and secondary schools in the canton of Neuchâtel had inkwells. Back then, handwriting was an art form that pupils patiently had to learn, starting by ensuring the nib had the right amount of ink on it.

As well as the dizziness caused by the blank page, pupils were also familiar with the feeling they got when a page was smudged because mastery of writing with an ink pen does not come in a day, but with regular practice and application.

As anecdotal and daunting as this may seem when pens have been replaced by keyboards, the pursuit of beautiful handwriting, particularly during childhood, encourages the development of fine motor skills. As well as great dexterity, it allows patience and perseverance to be acquired, two qualities useful for carrying out lengthy work.

For creation and its pursuit to be synonymous with pleasure, honesty and purity, it is often necessary to put time aside and get rid of any sense of urgency brought about by our utilitarian values and a way of life focused on high productivity.

Wanting everything, now! Being responsive, productive, competitive, high-performing. Zapping. Fast food. Speed dating. Ultra high output. Making up time. Going faster. Always faster! A frenzy and source of stress unfamiliar to both the master calligraphers and illuminators of the Middle Ages and Renaissance and to pioneers of watchmaking who gave the region its reputation for excellence. Nasty has therefore called his mural "Take your time", a soothing message he wants to impart to students at the Collège des Jeanneret.

Nasty has created "bubbles of time" by superimposing letters and numbers. Using effects of transparency, he manages to give the illusion of spheres floating in space and time. Letting your gaze wander over the entangled forms, "subliminal" inscriptions appear, hence the title of the work.
© exomusée – January 2022 – Redaction: François Balmer – Translation: Proverb, Heiler & Co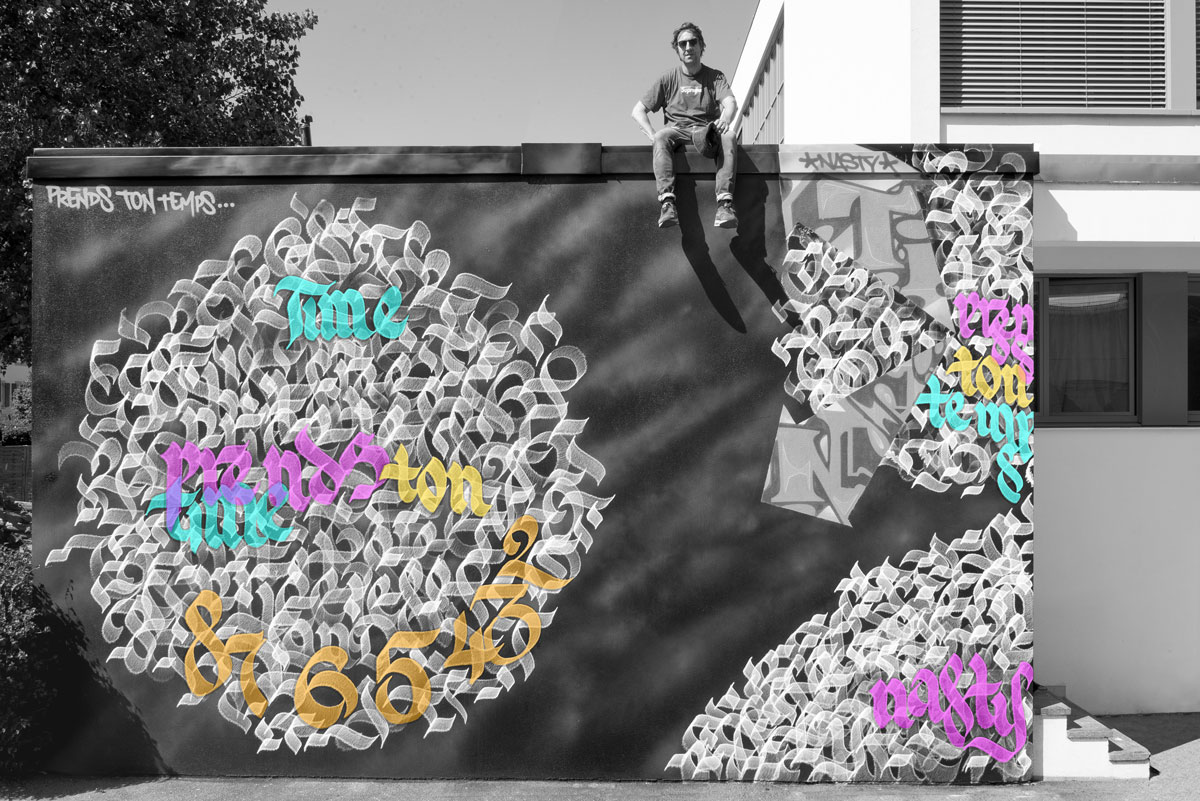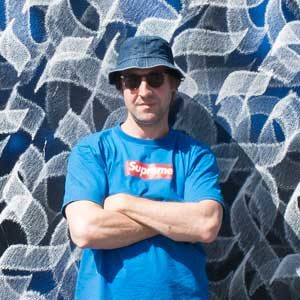 Born in Paris in 1975, French-Swiss artist Nasty was one of the first graffiti artists in the French capital, having started painting on walls and in metro stations at the age of 13. Today he is one of France's best known graffiti artists. A virtuoso of calligraphy, he was invited to put his poetic writing on the wall of Le Locle's Collège des Jeanneret on the theme of time – entirely appropriate given the town's watchmaking activities.
© exomusée – January 2022 – Redaction: François Balmer – Translation: Proverb, Heiler & Co
To print the content of the page, please click on the printer icon.
Thank you for following and supporting the exomusée on Facebook, Instagram and YouTube!