TITLE: Les gardiens du Temps [GUARDIANS OF TIME]
Technique: STENCILS, SPRAYING, PAINTING
LOCATION: Place du 1er-Août
The artists in the Monkeybird Crew (MBC) cut out a huge number of stencils by hand to produce their mural. They then used brushes to put the finishing touches to their spray-painted work and accentuate the sharpness of their design, like real goldsmiths.

From a chromatic perspective, the composition is subdued. "Rather than using colours, we preferred black, white, shades of grey and gold. The black represents the material, both solid and liquid. White, the hazy light, is like the breath of the soul. And gold refers to jewellers, to illuminations, to religious art, to eternity."

The artists depict their guardians of time as giants dressed in togas. A man with a monkey's head is watching an hourglass. In a symmetrical reflection, his celestial alter ego, a man-bird, consults an astrolabe. "The monkey and the bird are our muses. In Japan and India, the monkey helps man move from his terrestrial plane to the supernatural, while the bird is a symbol of our connection with the sky and symbolises the heights of the spirit," explain the artists.

In the middle of the mural, pride of place is given to an astronomical clock whose hand has stopped on July, in reference to the month when the mural was created (July 2019). As well as showing the time, this type of clock provides all kinds of information, such as the relative positions of the sun and the moon, zodiacal constellations, daylight hours and night-time, the age and phase of the moon, the date of eclipses and religious feast days, the date and time of tides, solar time, sidereal time, the date of solstices and a map of the skies. The twelve signs of the zodiac are inscribed in a small off-centre circle. Written in Latin, the months are distributed in a concentric circle. The hour dial consists of 24 pointers, numbered twice from I to XII. The hour hand is decorated with a golden sun. Ancient astronomical clocks, whose precision varied by half an hour a day, do not generally have a minute hand.

The imposing clock mechanism rests on a circular base inspired by the Jantar Mantar, the renowned Indian astronomical observatory in New Delhi.

The Monkeybird Crew have their own vision of clock-making: "Man lives in the awareness of merely being dust at the heart of the immeasurable universe. Gripped by the unfathomable vertigo this causes, and to provide an illusion of escaping this finiteness, over the centuries man has produced a variety of measuring instruments and masterly works."
© exomusée – January 2022 – Redaction: François Balmer – Translation: Proverb, Heiler & Co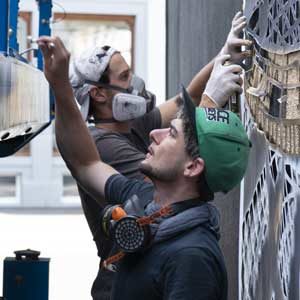 Monkeybird Crew (MBC) is a partnership between two French artists who have chosen to produce mural fables with social themes by depicting elaborately symbolic totem animals. Monkeybird Crew encourages people to find the right balance between material obsessions and fantasies of freedom in order to make themselves social animals. The artists' inspiration mainly comes from sacred or lyrical works such as illuminations, stained-glass windows and architectural ornamentations, but also whimsical illustrations from the Arts and Crafts period or Japanese prints.

The bird is the personification of the human soul, out of which flow notions of freedom, escape and mind games. The monkey refers to the primitive human condition and the means by which we resist our own nature.

The two artists started working in the street before moving to the walls of museums and institutions, but have never abandoned the first place of their expression. They have added to their techniques and experiences to suit the chosen space: stencils, engravings, linocuts, research into diverting materials, drawings, cut-outs or posters in fibreglass wallpaper. Artists of striking graphic originality, they sustain the international urban landscape with the poetry of their work.

Stencil users renowned for the precision of their lines and the finesse of their cut-outs, all done by hand, Monkeybird Crew specialises in portrayals of metaphysical architecture in which the Bird ("Blow") and the Monkey ("Temor") cohabit. Inspired by treatises on geometry, mechanics, cosmology and astronomy, their work comes in a variety of forms using all kinds of media and aids, including illumination and calligraphy. They also have an obsession with reintroducing an animal presence on walls in cities.
© exomusée – January 2022 – Redaction: François Balmer – Translation: Proverb, Heiler & Co
To print the content of the page, please click on the printer icon.
Thank you for following and supporting the exomusée on Facebook, Instagram and YouTube!