Title: GRANDE GENTIANE [GREAT GENTIAN]
Technique: PAINTING BY BRUSH AND ROLLER
Location: Rue Georges-favre 4
At 4 Rue Georges-Favre, Ticino-born artist Mona Caron has produced a mural celebrating the great yellow gentian (Gentiana Lutea), a plant symbolic of the flora of the Neuchâtel mountains. Commonly known as the "golden fairy" and famous for its medicinal properties, the gentian provided plenty of inspiration to artists in the early 20th century and can be found in several works typical of the Sapin style, a regional variation of Art Nouveau. This herbaceous plant is also useful to watchmakers who take the wood of its stem to hand-polish pieces of fine watchmaking. There's an old saying that goes "the taller the gentian, the deeper the snow".
Now based in San Francisco and famous worldwide for her murals depicting gigantic "weeds" created using a brush and roller, neo-muralist Mona Caron gives us her perception of the plant that is rooted firmly in the hearts of people living in the Neuchâtel mountains:
"Here, high up in the mountains of the Jura, the gentian studs the landscape. Standing tall in the rolling meadows like little flagpoles, its stems mark the spots where you can dig for its magical and prized bitter root, the key ingredient of many vermouths, liqueurs, firewaters, syrups and tinctures, here in the homeland of absinthe. Bitter is a lost taste, even though bitterness is delicious and cures. Addictiveness to sweet things has narrowed the spectrum of pleasures that palates can enjoy, keeping many from healthy habits. So I offer this bitter-rooted wildflower, a field weed, as a metaphor of the resilience and strength we acquire by daring to do something feared, perhaps uncomfortably new but actually ancient."
For Mona, the gentian symbolises both pleasure and health, two words that the artist believes are closely entwined. "Follow the golden-flowered beacon!" exclaims the artist as she talks about the medicinal powers of gentian, before raising her glass. "Good health!" On this tower block, the slender outline of the "golden fairy" is a composition that makes full use of the building's verticality. The aim of this mural is to brighten up a rather drab and grey block of flats. In some ways, the sudden growth of this giant plant (25 metres in two weeks is pretty fast, isn't it?) reminds us of the English fairy tale of Jack and the Beanstalk. Like young Jack, a bold and opportunistic hero, wild plants in their own way also benefit from the opportunities life offers them, for example trying to interfere with the urban space while being at risk of wilting beneath a cold shower of weed killer or perishing under the furious blows of a hoe.
Its dimensions make this mural the largest work produced by Mona Caron in Europe (at the time of its completion in July 2021).
For environmental reasons, and to guarantee the maximum longevity of her work, the artist used a mineral paint produced by Keim that contains high-quality natural pigments. Charmed by the exomusée's concept and Mona Caron's work, the Swiss company spontaneously and generously supplied the paint free of charge. Thank you very much!
> Link to Mona Caron's website
© exomusée – January 2022 – Redaction: François Balmer – Translation: Proverb, Heiler & Co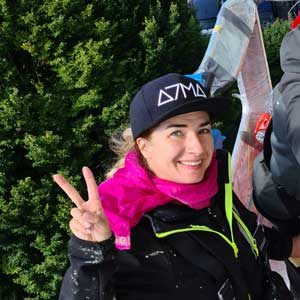 Born in the wild and verdant Centovalli region of Ticino in Switzerland, Mona Caron owes her love of botany to the natural surroundings in which she grew up, as well as to what her mother and grandmother taught her. A love of plants runs in the family because her grandfather was a botanical illustrator. It was purely by chance, rather than any form of artistic osmosis, that Mona developed the same pictorial styles as her grandfather, someone to whom she was never really close. While her brushstrokes might be the same, Mona has brilliantly magnified them onto walls hundreds of square metres in size.
Mona Caron briefly studied English literature at the University of Zurich before moving to San Francisco where she attended the Academy of Art University, graduating with a bachelor of fine arts (BFA) with distinction in illustration. Motivated by the desire to popularise her art around the world, Mona Caron has spent time in several countries, but San Francisco remains her home base.
Mona's first decade in muralism was characterised by narrative murals that were extremely site-specific, detailed and immersed in the community, reflecting past, present and future imaginary worlds in their neighbourhoods through a particularly permeable participatory process, considered part of the artwork. This process, which featured in the Emmy Award-winning documentary film "A Brush With the Tenderloin", was the underlying practice in most of Mona's work in San Francisco.
Over the past decade, as part of her "WEEDS" project and her "artivism", she has focused on creating mural paintings that take into account the specificities of each community and of each site situated in the public space. Considering walls to be "geopoetic" spaces, she has now created murals, some of which are huge in scale, in the United States, Europe, South America and Asia. By combining painting and photography, in her "WEEDS" project she also produces stop-motion animations and short videos.
Mona sometimes reverts to including narrative elements in her botanical and poetic metaphors in surrealist emotive or dreamlike visions, as can be seen in recent works such as "Outgrowing" in Taiwan and her collaborations "EMER(GENTES)" and "Mujeres Custodias". She supports various social and environmental movements by co-creating visuals for street actions and outreach activities.
Rising up towards the sky, Mona Caron's giant plants appear incongruously at times in the urban space, symbols of resistance but also of home.
> Link to Mona Caron's website
© exomusée – January 2022 – Redaction: François Balmer – Translation: Proverb, Heiler & Co
To print the content of the page, please click on the printer icon.
Thank you for following and supporting the exomusée on Facebook, Instagram and YouTube!