Technique: Brushes, Spray, stencil
Location: Rue Jean d'Aarberg 5
© exomusée – May 2023 – Redaction: François Balmer – Translation: Wolfgang Carrier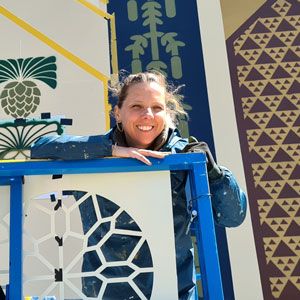 Koralie is a multi-disciplinary artist. She develops her work on construction (symmetry and repetition), juxtaposition/layering and the balance inspired by phyllotaxis, architecture and arts and crafts. She merges elements from different origins, Human and Nature creation, ethnic and contemporary patterns to create a multicultural, dreamlike harmony.
© exomusée – May 2023 – Redaction: François Balmer – Translation: Wolfgang Carrier

To print the content of the page, please click on the printer icon.
Thank you for following and supporting the exomusée on Facebook, Instagram and YouTube!