Technique: BRUSH, ROLLER, SPRAY
Location: Rue du Tertre 6
Mural painting in progress. Text in preparation.
© exomusée – August 2022 – Redaction: François Balmer – Translation: Wolfgang Carrier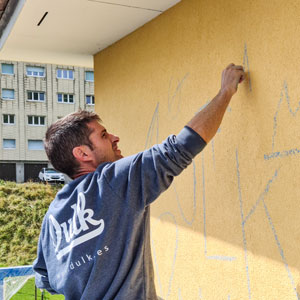 Valencian artist Dulk, Antonio Segura, is one of the most important names in Valencian painting of the moment internationally. His body of work begins to form in urban art and mural painting to which he remains closely linked today along with study work, but does not stop there. He continues to research and constantly create new forms of expression through different media, drawing, sculpture or photography among others. True to its essence with a strong ecological conviction to defend ecosystems and the most vulnerable species this work invites the viewer to be part of a unique imaginarium, full of energy and with a special sensitivity to color. A dream world with animals and natural spaces that tells personal, universal and unique stories.
To print the content of the page, please click on the printer icon.
Thank you for following and supporting the exomusée on Facebook, Instagram and YouTube!