Title: Chimères mécaniques [MECHANICAL CHIMERAS]
Technique: SPRAY PAINTING AND MARKERS
LOCATION: Place Jules Grossmann
Accustomed to illegally disseminating his weird animals by drawing them directly in the public space, Codex Urbanus accepted the exomusée's invitation to create characters linked to watchmaking expertise. The artist drew inspiration from the town's socio-historical context to produce a litter of six little chimeras in public, entrusting them to the care of the people of Le Locle, especially children playing in Place Jules Grossmann. And all entirely within the law, in accordance with the exomusée's charter. These kindly creatures (the chimeras, not the children) have no fear of the harsh climate of the Neuchâtel mountains because they are mechanical, like fantastical automatons straight out of the restless minds (and workshops) of watchmakers who were motivated by ambitions other than inventing timepieces, such as Pierre and Henri-Louis Jaquet-Droz, Jean-Frédéric Leschot and, more recently, the contemporary artist François Junod.

"Could our planet's incredible biodiversity, which inspires me, also be the work of a cosmic clockmaker?" wonders the agnostic artist who is rather partial to metaphors. Codex Urbanus finds the following comparison amusing: "In a way, aren't plants, animals and humans just ingenious organic and hormonal mechanisms that are trying to find their way through time and space with varying degrees of luck and style?"

While transhumanism and artificial intelligence are becoming the new Holy Grail, the interaction of biological and mechanical worlds is like reaching a terrifying crossroads on the one-way street of human adventure. Are we experiencing a contemporary scientific version of the myth of Frankenstein, the "modern Prometheus" invented in 1818 by Mary Shelley? By assembling a mechanism of flesh into which he breathes life, Victor Frankenstein – a Swiss scientist and also a "nutcase" – seals his fate with that of his creature. By playing too hard at being a clockmaker with material and the living, with nanotechnology and genetic engineering, by thinking he's God and trying to create machines endowed with intelligence, isn't man in the process of committing too great a sacrilege? Will his curiosity prove fatal? On the north-east side of this sheltered play area for children, the town of Le Locle is safe from outside attacks, protected as it is by the transparent abdomen of the mechanical entity that is carrying it off to its destiny. It is the colour of gold because, in the artist's eyes, Le Locle is a treasure.

In the mural painted on the back of this same sheltered play area, a mechanical dinosaur is confronted with the sad memory of animals that have become extinct due to human activity, either directly or indirectly. Maybe it realises that its own existence is linked to this carnage.

Codex Urbanus is convinced that the imagination allows us to find answers to the philosophical and ethical questions raised by certain kinds of scientific "progress". By allowing these strange mechanical chimeras to glide along Le Locle's walls, the artist invites us to reflect on our excessive appetite for knowledge, our desire to conquer time and our way of understanding the mysteries of this world.
© exomusée – January 2022 – Redaction: François Balmer – Translation: Proverb, Heiler & Co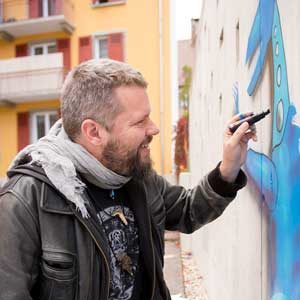 Codex Urbanus draws weird animals straight onto walls under the cover of darkness. In the course of a decade, a bestiary of over 600 creatures have paraded through the streets of Montmartre in Paris, staying for as long as the city's cleaners allowed. He also takes part in a variety of festivals and exhibits once a year in unexpected institutions, such as the Gustave Moreau Museum, the Paris Sewers Museum and more recently the Château de Malmaison. He has also written several books on street art, including an essay on the reasons why this movement suddenly emerged in the second half of the 20th century ("Pourquoi l'art est dans la rue?" [Why is art in the street?], Critères Editions, 2018).
© exomusée – January 2022 – Redaction: François Balmer – Translation: Proverb, Heiler & Co
To print the content of the page, please click on the printer icon.
Thank you for following and supporting the exomusée on Facebook, Instagram and YouTube!