Technique: FREEHAND SPRAY PAINTING
LOCATION: Rue Le Corbusier 21
Created using freehand spray painting, this mural by BustArt illustrates the inroads watchmaking has made into popular culture, cinema, comic strips and animated film. Although it was designed for Le Locle, there is something Californian about this mural painted on the 1980s mini-skyscraper. It has a touch of Hollywood or the Walt Disney Studios about it.

Time is a mystery that nourishes our imagination from childhood. The lower part of the mural features the inventor Gyro Gearloose, created in 1952 by Carl Barks for the Walt Disney Studios, and Cogsworth, the clock that first appeared in the animated film Beauty and the Beast in 1991.

The charmer checking his watch was inspired by the poster for the film Back to the Future released in 1985. However, BustArt preferred to replace the face of Marty McFly, the hero of the Robert Zemeckis movie, with that of the kind of model who embodied archetypal masculinity in advertisements for watch brands during the so-called golden years following the Second World War, a period of strong economic growth and higher living standards enjoyed by the large majority of developed countries between 1945 and 1975.

Whether they are kitsch or vintage, all these characters bring back memories of our youth and remind us of other whimsical creatures connected with the notion of passing time. The pumpkin coach in Cinderella is a metaphor for something inescapable, while in the tale of Alice in Wonderland, the white rabbit embodies the stress induced by measuring time.

Paradoxically, BustArt pays homage to icons of popular culture by tearing them apart, crumpling them up and even merging them together, a fate to which he has also subjected the Smurfs, characters created by Pierre Culliford, alias Peyo. While BustArt's approach, which consists of reappropriating other people's creations, might appear both iconoclastic and opportunistic, it primarily reflects a general tendency that the art world cannot escape: it appears a necessity to recycle codes and ideas. The appropriation and free availability of a globalised cultural heritage are claimed as rights linked to freedom of expression.

Of the large murals I've done so far, this is the most detailed.  BustArt (juillet 2021)

«The area of Le Locle is renowned for its famous watchmakers. The watch companies are known and respected around the world for their high standards and precision, and have put Switzerland on the map for representing exactly those values. In my mural "Time Out", I highlight the precise and complicated gears of a watch. As in life itself, it's the gears in the background that make the outside work. We often take the end result as it is and for the most part never see the process it took to get there.»    BustArt (July 2021)
© exomusée – January 2022 – Redaction: François Balmer – Translation: Proverb, Heiler & Co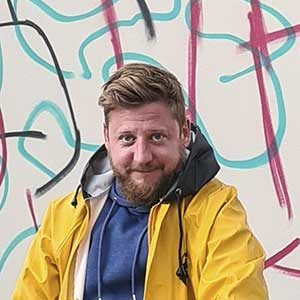 BustArt is a Swiss neo-pop artist who likes blending and confronting heroes and icons of popular culture. He started out as a graffiti artist in 1999, spending until 2005 becoming better acquainted with this artistic movement and the different facets of street art. He gives his art a clearly figurative orientation by combining letters and characters from cartoons. Travelling around the world, his mission has become one of communicating with people through street art. Surprising pedestrians, encouraging them to think, sharing his love of colour in the urban space. He has left his mark all over the world, including in New York, Berlin, Mumbai, London, Paris, Dubai, Cairo, Marseille and Amsterdam.
Since 2008, BustArt has been focusing on developing complex stencils. He mostly sprays his work on posters and then sticks these onto walls in the towns and cities he discovers as he travels around the globe. In 2011, BustArt moved to Amsterdam and has painted more than 200 paintings and murals using stencils. Time Out Amsterdam magazine named him one of the 50 people who made their mark on Amsterdam in 2011.
In 2013, BustArt set up the "City" project with his partner Zaira and together they have drawn more than thirty imaginary cities, giving them graphical expression with the help of 250 stencils.
BustArt continues to move forward by mastering new techniques. For BustArt, the street remains his most important place of expression. Communicating with the entire community through his art remains his prime artistic motivation.
© exomusée – January 2022 – Redaction: François Balmer – Translation: Proverb, Heiler & Co
To print the content of the page, please click on the printer icon.
Thank you for following and supporting the exomusée on Facebook, Instagram and YouTube!